CARE, PASSION, AND ENERGY. EXCEPTIONAL RESULTS, QUALITY SERVICE.
Welcome to the family! greenelement is a welcoming, close-knit team committed to excellence in customer service, and achieving exceptional results for every client. Our staff will ensure you leave greenelement feeling refreshed, radiant, and relaxed, every time.
Ross
Hairdressing is my passion, still, after 35 years It's such a creative, dynamic headspace. I love and specialise in all aspects of styling, cutting, and colour, and staying committed to learning and growing helps keep me inspired. I did some further training with the AFHIA Hairdresser of the Year recently, so now have even more tools to look after all you curl lovers! I'm a local lad, living in St Kilda, and enjoy hanging out beachside and the odd cheeky cocktail when I'm not working.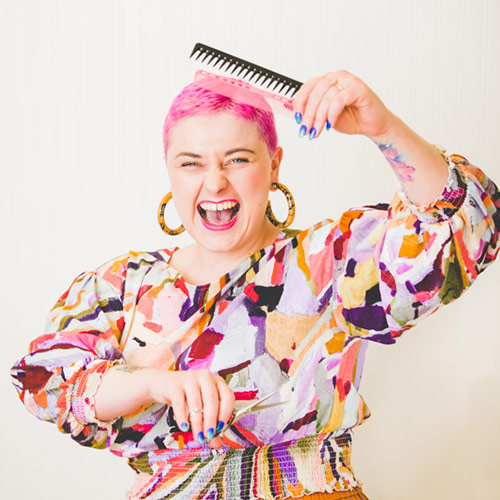 Paige
I love what I do. I'm a second generation hairdresser, having been around hairdressing all my life. I love the challenge of makeovers, working with clients to transform their looks and tailoring what's needed to their hair types and personalities. Curly, short, long, men's, colour, children of all ages, bridal and event styling, I love it all, working and training hard to make everyone feel and look good. I also enjoy competitions and photo shoots, and working with all our beautifully natural, ammonia free, non-toxic hair products.
Zakary
Hello! I'm a sweetheart, really. I live and breathe hairdressing, the majority of my energy and passion being channeled into my work here on the floor at greenelement. I have a passion for women's hair and believe in working towards achievable goals to help you achieve your desired outcome while keeping your hair's integrity and staying true to design and style fundamentals. I've been using the Aveda range my entire career, so I'm really confident with their incredible products. I also do an amazing head massage!
Aaron
I love all aspects of hairdressing – colouring, cutting, and styling – in particular guiding clients through complete 'start to finish' transformations and seeing their smiles when the process is complete. I'm always eager to expand my knowledge and skills. I love working with both Aveda and Kevin Murphy. They're high performance, natural ranges and both companies are committed to 'giving back' via community and environmental projects, creating a safer, greener future for us all. I'm also passionate about mental health and supporting my friends and family in this area.
Brittany
I grew up going to the local salon with my mum and hairdressing always intrigued me. I love helping people feel good about themselves, and hairdressing is such a rewarding way to achieve that. My motivation is the final result, seeing a client's face light up when they see their hair at the end of a service. While I love cutting, colouring, and styling equally, foiling and 'twisty' blow waves would be my favourites! In my spare time I'm studying Youth Work at Victoria University, my other passion.
Milly
With creativity and energy, I love the opportunity hairdressing gives me to transform how someone feels. They may walk into the salon feeling one way, and walk out feeling fresh and like 'themselves' again. I was drawn to hairdressing by the diversity of skills required to achieve the greatest results for clients – men's cuts/barbering and foiling, for example, are both so challenging and complex – and rewarding. Outside of the salon, I'm passionate about self-care and put my family first, always working hard to make them (and myself) proud.
Shelby
I love the variety of requests we get from clients regarding their hair, and the challenge of helping them achieve the look they envision. As an apprentice I'm learning and growing in confidence with each service. I enjoy styling – especially with curls and waves – so clients feel like a million dollars when they leave us. I love the finished look the Aveda and Kevin Murphy ranges can achieve. On weekends you'll find me wakeboarding on the Murray River or playing basketball, and dreaming of hairdressing around the world!